Solar Sludge Drying
Solar Sludge Drying Plant
Application
Solar sludge drying plant

Country
France

City
Mortagne au Perche

Representative office
Conductix-Wampfler [F]

Operator
VEOLIA

Technical requirement[s]
Power supply of mobile system for sludge drying with wire guidance

System course
Two linear lines and one curve

Track length [System]
120 m

Product[s]
Conductor Rail, Program 0812 SinglePowerLine

Additional product information
Mechanical structure with kit of standard part (C rail 40 and 63, Slip Ring Assembly and Spring Cable Reel)

Number of poles
5

Current
200 A

Environmental condition[s]
Hot and wet (greenhouse), ammoniac

Additional information
About 10 similar projects between 2009 and 2011
Relevant Products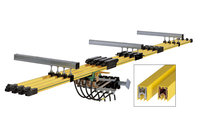 Single PowerLine 0812
Additional information
Single pole conductor rail preferably for straight tracks.
Special features
Available with different rail materials, suitable for most industrial environments
High safety level due to integrated finger-safe design
Easy and exact mountig with multiple hanger clamps for 3, 4 and 5 poles
Unlimited number of poles, designed for complex systems
On-site bending with optional bending device for curves possible
Main applications
EOT cranes
People Movers
Special purpose equipment
Product data
Standard application data
Nominal Current (at 100% duty cycle) [A]: 25 | 200 | 250 | 320 | 400
Voltage Grade [V]: 690 (hand safe array 500 V)
Rail Length [mm]: 4.000 [13.1 ft]
External Dimensions (Pole) [mm]: 18,0 x 26,0 [0.71" x 1.02"]
Operating Conditions: for indoor and weather-protected outdoor applications
Track Configuration: straight / curved elements available
Downloads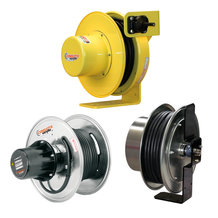 Spring Cable Reels
Additional information
Conductix-Wampfler spring cable reels are used for the automatic reeling of cables on various types of moving equipment. These include hoisting and other material handling devices; e.g. portal cranes, grabs, magnets, lift and working platforms, machinery, mobile cranes, transfer cars or cleaning systems.
These machines are mainly track-based and operate in a straight line either horizontally or vertically. For the use on spring driven cable reels Conductix-Wampfler offers a comprehensive range of special reeling cables to transfer low voltage electric power and control signals to the moving machinery.
Downloads