Stacker & Reclaimer
Circular Scraper in a cement plant
Application
Circular Scraper in a cement plant
Country
Czech Republic
City
Radotín
Representative office
Conductix-Wampfler s.r.o. [CZ]
Operator
Českomoravský cement, a.s.
Technical requirement[s]
Main power supply to a Circular Scraper
System course
Orbicular
Travel distance [Load]
63 m
Travel speed [Load]
10 m/min
Product[s]
Festoon-System for I-Beams, Program 0350
Environmental condition[s]
Very dusty environment
Relevant Products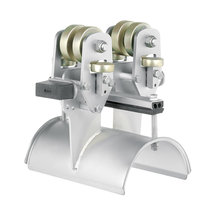 L-Line 0350 Series
Additional information
Cable trolley with single or multi layer side-loading cable supports for flat cables. Suitable for medium mechanical and dynamic loads including traversing operation with lateral forces. Also suitable for short work cycles and high speeds.
Main applications
Bridge cranes
Gantry cranes
Stacker cranes (RMG's, RTG's)
Ladle cranes
Stacker and reclaimers
Conveyor systems
Transport systems
Product data
Travel speed max. 1) [m/min]: 160 [524.9 ft/min]
Load capacity/trolley max. 1) [kg]: 350 [771.6 lb]
Main rollers diameter [mm]: 50/63/80/100 [1.97"/2.48"/3.15"/3.94"]
Ambient temperature [°C]: -30 ... +80 [-22° F to 176° F]
Applications: indoor / outdoor
I-beam: parallel flange / tapered flange
1) depending on roller size/ roller material
Downloads