Transit & People Mover
As large urban areas deal with traffic congestion, space constraints, and air pollution, they will increasingly turn to "green" electric mass transit systems.  Conductor rails for LRTs ( light rail transit), monorails, and APMs ( automated people movers) must be reliable, long-wearing, and energy efficient, while needing minimal maintenance. Transit operators demand the optimal  conductor bar profiles and layouts to meet specific system operating requirements. They need engineering services, installation assistance, and commissioning oversight. Over time, steel 3rd rail systems will convert to highly conductive stainless steel capped aluminum rails to reduce energy consumption, lower installation costs, and minimize the number of power substations. These "green" rails must provide operating life equivalent to all-steel rails. Innovative PRT (Personal Rapid Transit) concepts need ingenious  conductor rail solutions and technically advanced battery charging systems. Lastly, train operators need power and safe plug-in for vehicles parked in maintenance facilities.
For over six decades, Conductix-Wampfler has built a reputation as the global supplier of choice for "green", energy efficient aluminum/stainless  conductor rail solutions,  contactless charging systems, and train plug-in power solutions. We have the engineering know-how, practical experience, and testing capabilities to be a partner in your success! We offer:

Conductor Rail Systems
Crimped Cap aluminum/stainless profiles from 320 amps to 4500 amps for APMs, PRTs, LRTs, and monorail systems
Welded Cap aluminum/stainless profiles from 4500 to 6000 amps – for 3rd and 4th rail systems
Insulators, collectors, and shoes optimized for the system
Rail Testing
Our fully staffed test facilities, along with extensive field trials, verify transit component designs.  We offer general testing services as well
Our proprietary PRIAS (Power Rail Intelligent Analysis System) diagnostic tool improves system performance by measuring and locating hot spots and inconsistencies in the rails
Stinger Systems – reduce the hazards associated with live plugging of parked trains
A combination of conductor rails, cable festoon systems, drop leads, and connectors supply power for vehicles parked in maintenance facilities
Stingers are customized to the needs of the individual operator; many safety features are offered to prevent unintentional energizing of train circuits and accidental drive-off
IPT® System - elevator in tower
Application
IPT® System - elevator in tower

Operator
Expo Exhibition, Hannover (Hermes Tower)

Product
Inductive Power Transfer Rail System

Energy
3 kW

Track length
65 m
Specific features
space-saving, wear- and maintenance-free
Relevant Products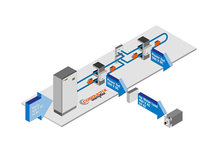 Inductive Power Transfer IPT®-Rail
Additional information
Generally the basic function of IPT® Rail systems is the same as that of other IPT® systems. But there are some additional or specific aspects to consider.

Because vehicles are usually rail guided here and an elevated installation of the cable is possible it becomes also possible to use E-shape pickups.

In applications with traveling track segments, i.e. switches in electric monorail systems, the experience with inductive power transfer can be used to supply such track segments inductively with energy. Wearing cable chain solutions or other similar solutions become second choice. If the idea of inductive power transfer is consequently realized it becomes even possible to feed so called safety zones in front of switches or lifts so that there is only power transfer possible when the segment is in position. To realize this no extra feeds or external control is necessary.

Naturally IPT® can also replace other conventional solutions, as cable chains or conductor rails in skillet lines, skids or in transfer cars if there are certain requirements on the solution, for example if voltage arcs at rail ends shall be avoided or if the access for maintenance underneath skillet platforms is very limited.
Downloads